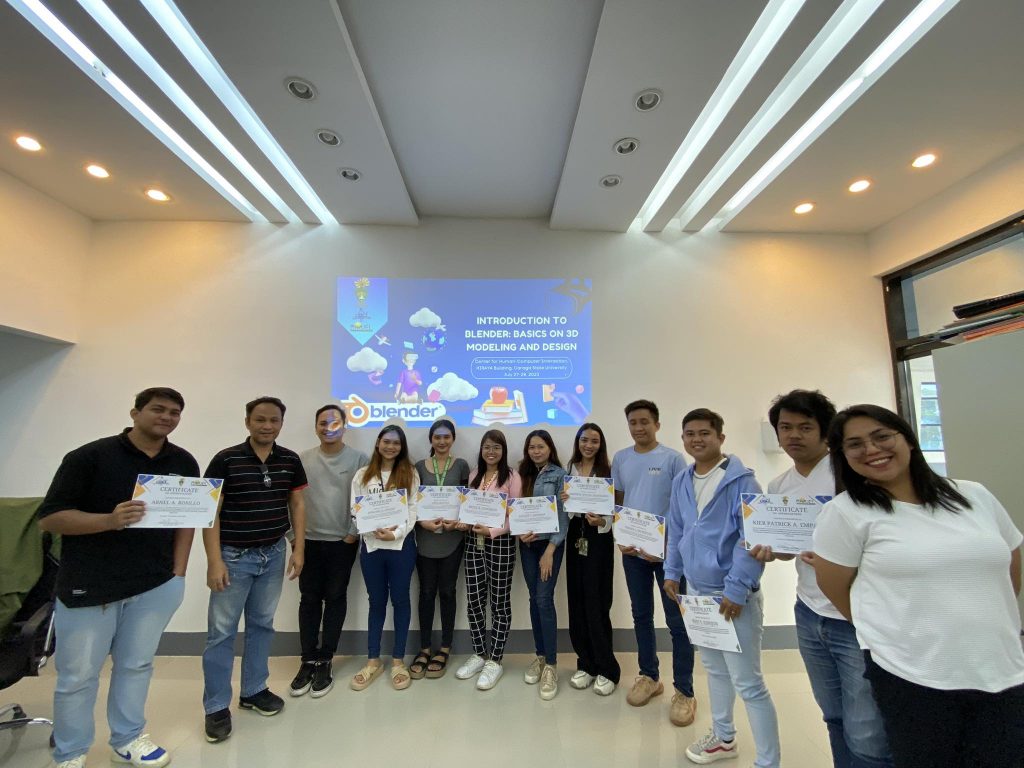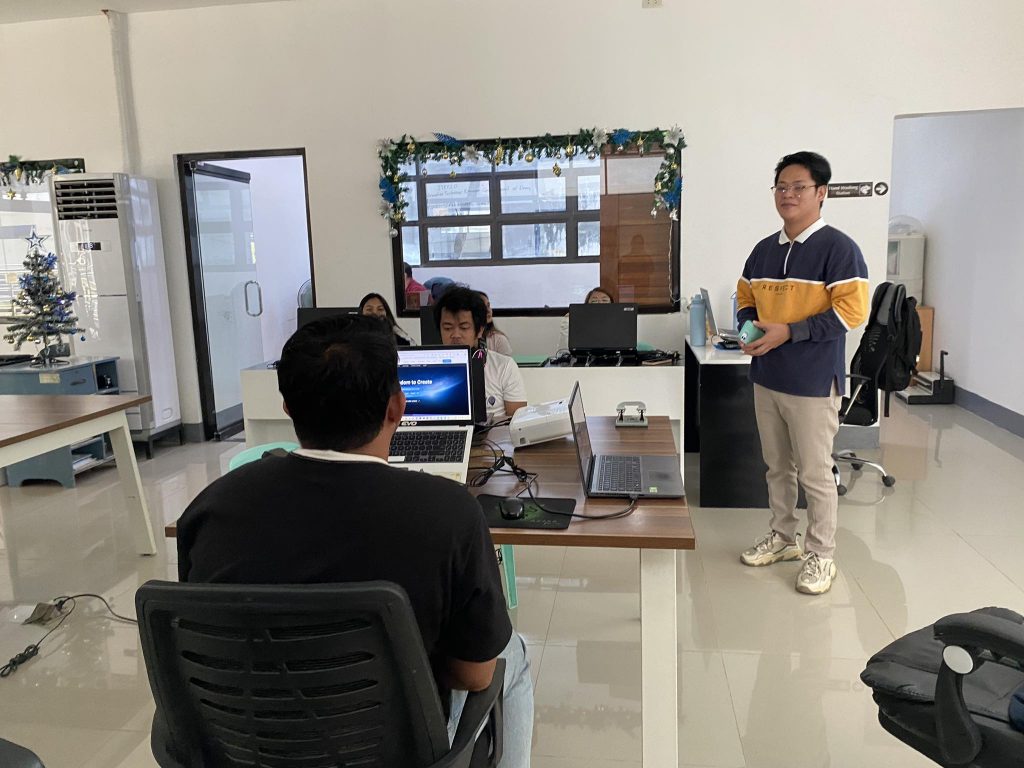 𝗠𝗮𝘀𝘁𝗲𝗿𝗶𝗻𝗴 𝟯𝗗 𝗠𝗼𝗱𝗲𝗹𝗶𝗻𝗴 𝗮𝗻𝗱 𝗔𝗻𝗶𝗺𝗮𝘁𝗶𝗼𝗻: 𝗔 𝗦𝘂𝗰𝗰𝗲𝘀𝘀𝗳𝘂𝗹 𝗪𝗼𝗿𝗸𝘀𝗵𝗼𝗽 𝗶𝗻 𝗖𝗼𝗹𝗹𝗮𝗯𝗼𝗿𝗮𝘁𝗶𝗼𝗻 𝘄𝗶𝘁𝗵 𝗖𝗛𝗖𝗜 𝗮𝗻𝗱 𝗠𝗔𝗥𝗩𝗘𝗟 𝗧𝗲𝗰𝗵𝗻𝗼𝗹𝗼𝗴𝗶𝗲𝘀
August 10, 2023
The world of technology is constantly evolving, opening up new avenues for creative expression and learning. Recently, a remarkable workshop spearheaded by the Center for Human-Computer Interaction (CHCI) in collaboration with Mining Augmented Reality and Virtual E-Learning Technologies, better known as MARVEL Technologies, stands as a testament to this progression. The workshop, titled "𝗜𝗻𝘁𝗿𝗼𝗱𝘂𝗰𝘁𝗶𝗼𝗻 𝘁𝗼 𝗕𝗹𝗲𝗻𝗱𝗲𝗿: 𝗕𝗮𝘀𝗶𝗰𝘀 𝗼𝗻 𝟯𝗗 𝗠𝗼𝗱𝗲𝗹𝗶𝗻𝗴 𝗮𝗻𝗱 𝗔𝗻𝗶𝗺𝗮𝘁𝗶𝗼𝗻" held on July 27–28, 2023, aspired to furnish the BS Information System students from the College of Computing and Information Sciences with invaluable skills in the realm of 3D design and animation as an integral component of their on-the-job training.
𝗘𝗺𝗽𝗼𝘄𝗲𝗿𝗶𝗻𝗴 𝘁𝗵𝗲 𝗡𝗲𝘅𝘁 𝗚𝗲𝗻𝗲𝗿𝗮𝘁𝗶𝗼𝗻 𝗼𝗳 𝗖𝗿𝗲𝗮𝘁𝗼𝗿𝘀
The workshop was meticulously designed to provide participants with a comprehensive understanding of 3D modeling and animation using Blender, a popular and versatile open-source software that has the ability to cater to a wide range of creative needs, from creating static 3D models to intricate animations and simulations.
The participants, comprised of enthusiastic BS Information System students, embarked on a journey to unlock their artistic potential and technical acumen. Under the guidance of professionals and experts from MARVEL Technologies, the students delved into the fundamental principles of 3D design and animation.
𝗔 𝗝𝗼𝘂𝗿𝗻𝗲𝘆 𝗧𝗵𝗿𝗼𝘂𝗴𝗵 𝟯𝗗 𝗠𝗼𝗱𝗲𝗹𝗶𝗻𝗴 𝗮𝗻𝗱 𝗔𝗻𝗶𝗺𝗮𝘁𝗶𝗼𝗻
Over the course of the two-day workshop, participants were immersed in a variety of hands-on sessions that covered the essentials of 3D modeling and animation.
Some of the key highlights of the workshop included:
Introduction to 3D Modeling: The participants were introduced to the world of 3D design, exploring the intricacies of creating three-dimensional objects using Blender's intuitive interface. They learned about vertices, edges, and faces, the building blocks of 3D models.
Texturing and Shading: With a strong foundation in modeling, participants dived into the realm of texturing and shading. They discovered how to apply textures to their models to achieve realistic and captivating visual effects.
Animation Techniques: Animating objects brings life to static creations. Through practical exercises, the students learned about keyframes, animation curves, and the art of bringing motion to their designs.
Project-based Learning: The participants applied their newfound skills to a guided project, allowing them to create their own 3D models with animations.
𝗔 𝗣𝗮𝘁𝗵𝘄𝗮𝘆 𝘁𝗼 𝗜𝗻𝗻𝗼𝘃𝗮𝘁𝗶𝗼𝗻
As the workshop concluded, the participants radiated a newfound confidence. From novices to creators, their journey showcased their transformation and adaptability in mastering new skills. The capstone of the workshop was evident in the fact that every participant successfully designed their 3D model with animation.
In a world where technology continues to reshape our realities, workshops like these illuminate the path forward, guiding the way for generations of tech-savvy visionaries to come.
#OneDOST4U #DOSTPCIEERD #S4CP #NICER #CaragStateUniversity #SuMMO #MARVELTechnologies #CHCI #Training #Workshop #Blender #3DModelling #Animation #ARVR